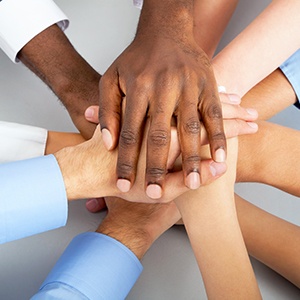 Businesses are constantly investing in technology and training in order to promote office collaboration. And while both these approaches can pay significant dividends, there is another, somewhat lesser known way to dramatically increase collaboration and ultimately drive productivity, performance and profits: office design.
Below, we highlight 6 design office ideas to promote collaboration in your environment:
Create Open Spaces
Open spaces (also called collaborative spaces) are designated areas where employees from various teams are co-located. There are no cubicles or barriers separating them, and as such they can informally interact throughout the day.
In some organizations, open spaces comprise all or most of the workspace, whereas in others it comprises a smaller section. The size and configuration depends on several variables, including workflow requirements, space availability, and so on.
Create Breakout Spaces
Breakout spaces are essentially small, strategically located open spaces. Employees can "deposit" themselves temporarily in such spaces to relax and connect. Typically, businesses opt to create breakout spaces near high traffic areas such as stairwells, elevators and lunchrooms, in order to maximize its usage.
Create Agile Workspaces
Agile workspaces are those that can be easily re-configured to suit changing needs, such as serving "flash teams" who rapidly come together on a project and then just as quickly disperse. These spaces use light, modular furniture that can be removed or modified quickly and safely.
Co-Working Spaces
Co-working spaces derive from a concept called "hotel seating", and allow employees to sit anywhere they wish on a day-to-day basis vs. in a designated spot or workstation. What's more, in an effort to promote collaboration and avoid silos, some employers who implement co-working spaces mandate that employees move around every week (or other designated duration).
Re-Invent the Lunchroom
Many employees use the lunchroom to informally meet with colleagues (or sometimes even customers and partners). Re-inventing this space so that there's ample table space and room for movement can significantly boost collaboration. And at the same time, it can encourage more employees to stick around at lunch and on breaks vs. heading to a nearby restaurant or café, which helps them save time and money – both of which they will appreciate!
Improve Lighting
Poor quality lighting negatively impacts mood and morale; which is antithetical to effective coloration. But on the bright side (no pun intended!), high quality lighting – either natural or artificial – can have an instant and lasting positive impact.
Learn More
At Key Interiors, we have over 30 years of experience help businesses of all sizes make smart, strategic and cost-effective office design decisions that boost collaboration, productivity, performance and image. To learn more, contact us today. Your consultation with us is free.