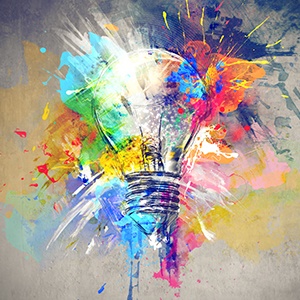 As noted by Forbes, creativity in the workplace is not optional, nor is it the exclusive domain of firms in "creative industries" like entertainment, arts, music, and so on. On the contrary, creative is absolutely critical for all businesses in every industry – including and in some cases especially conventional industries like insurance, banking, government and more — and directly impacts everything from turnover to profit. 
To help your business reap these rewards, here are 5 great design tips to boost employee creativity:
Office Design Tip #1: Create Open Spaces
Open spaces – which can be the size of an entire work area, or limited to a smaller section – allow employees to informally connect, collaborate, and find creative solutions to problems and challenges. It is an excellent way to avoid "silos" and encourage employees to share knowledge vs. hoard it.
Office Design Tip #2: Create Breakout Spaces
Breakout spaces are typically deployed in high traffic common areas – such as near a lunchroom or next to a stairwell or elevator – and allow employees to take a quick break. And while employees can certainly work in breakout spaces, generally they are used for resting, relaxing, and recharging emotional and psychological batteries.
Office Design Tip #3: Bring the Outside, Inside
Dotting the work environment with plants and flowers is an excellent way to boost creativity – and the impact can be far greater than you imagine. For example, a study by England's University of Exeter found that employees who simply had a small houseplant on their desk were a staggering 47 percent more creative than their houseplant-free colleagues. And that was not the only benefit either: employees with a houseplants on their desk were also 40 percent more productive, and reported a 47 percent higher sense of wellbeing.
Office Design Tip #4: Add "Homely" Furniture
According to a Gallup poll, half of all full-time employees spend more than 40 hours a week at work, and nearly 40 percent spend more than 50 hours a week. Adding some "homey" furniture as opposed to conventional office furniture – such as couches in breakout spaces, family-style kitchen tables in the lunch room, etc. – can go along way to helping employees feel more comfortable, less stressed-out, and ultimately more creative and productive in what is essentially their "home away from home".
Office Design Tip #5: Involve Employees in Design & Layout Decisions
No, this does not mean that you should cater to every employee request (having foosball tables and a beer fridge may not be viable!). However, in terms of creativity and engagement, it definitely pays to involve employees in some design and layout decisions, such as those involving colors, wall coverings, fabrics, and in some cases even furniture selection (e.g. sit-stand desks, ergonomic chairs, modular furniture, etc.).
Learn More
For more office design tips to boost employee creativity – and ultimately enhance your bottom-line – contact the Key Interiors team today. Your consultation with us is free, and we've worked with clients in all industries, sectors and verticals. We know what works!