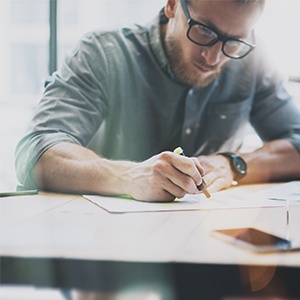 There are many factors that combine to make an office design project successful. However, one of the most important factors – and yet also one that many office design firms do not offer – is value engineering.
We will discuss why offering value engineering is not standard across all firms in a moment. First, let us briefly explain what value engineering is in the context of an office design project.
What is Value Engineering?
Value engineering is a methodology that is used to increase the value of an office design (or any other construction) project by exploring cost-effective alternatives across several areas, including (but not limited to) material availability, construction methods, transportation, planning, organizing, site restrictions/limitations, etc.  
The Benefits of Value Engineering
It is vital to keep in mind that each possibility is only accepted as part of the overall plan if it maintains, or ideally, improves functionality, performance and quality. In this sense, while value engineering can and should result in measurable cost savings, it is not a classic cost-cutting approach. It is, as noted above, about identifying and exploiting value.
Other benefits of value engineering include:
There is much more information available at the outset of the project, including the types and amounts of materials needed.

There is much lower risk of exceeding budget, since costs are more rigorously analyzed and budgets take into considerations hard data vs. assumptions.

There is greater buy-in among all stakeholders, because value engineering fosters creative solutions and adapts to fit the needs of each unique project.

There is more and better communication, as clients are more involved in the project (but not an overwhelming manner that bogs them down or becomes unacceptably time consuming or tedious).

More best practices and advanced technologies are integrated into the office design project, since they are identified through the value engineering process.

There is less administration and paperwork. Although value engineering does require an initial time investment, this typically leads to a more streamlined and efficient project.
Here is Why All Interior Solutions Firms Do Not Offer Value Engineering
Given these impressive benefits, you may be asking: why do only a few – rather than all – interior solutions firms offer value engineering?
The answer is simple: most interior solutions firms lack the competence and capacity to offer it. Some will even go as far to dissuade their clients from exploring this approach; not because it is in their clients' best interest (because it is not!), but because, as mentioned, they do not and cannot offer it.
At Key Interiors, we are recognized value engineering experts, and leverage our in-house capacity and competence to help our clients consistently get more for less, and enjoy a much more streamlined experience from start to finish.
Furthermore we do not limit our value engineering capability for large-scale office design projects only. We utilize this for relatively small office renovations as well, because that is what is best for our clients – even if they are refreshing or upgrading their space, and not necessarily re-inventing it.  
To learn more, contact us today and schedule your free consultation.