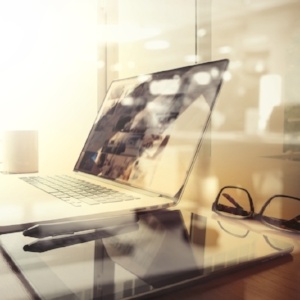 When exploring options for refreshing, renovating or perhaps re-inventing your work environment, you'll likely come across the terms "contemporary" and "modern" used interchangeably in various articles, books, videos, discussion forums and websites.
However, while contemporary and modern are synonyms in everyday communication, in an office design context they refer to distinct concepts. Below, we summarize the key differences:
1. Time Period
Contemporary office design can be interpreted as a literal label: i.e. what is happening right now. For example, an emerging — and therefore contemporary — office design trend is to install systems that allow employees to control the lighting levels of their personal work areas.
Modern office design refers to styles and themes that emerged in the 20th century; generally, from the 1920s onward. This is when the Industrial Revolution gave way to the Machine Age, and fundamentally changed the nature and definition of work, since for the first time more people worked in an office environment than on the plant or shop floor.
2. Interiors
Contemporary office interiors vary based on industry and specific needs, but a prevailing theme is an open concept. There are a few reasons for this approach. The first is practical: an open office concept is cheaper to create since there are fewer walls. The second is strategic: fewer barriers between employees means more communication and collaboration; especially among cross-functioning teams that may rarely (if ever) interact. The third is symbolic: an open office concept expresses transparency and visibility.
Modern office interiors are best characterized as "classic and functional." Simplicity and clean lines are emphasized. However, this certainly doesn't mean that modern office design is boring and predictable. On the contrary, when it's properly crafted, it can be both soothing and stimulating — both for employees, and for customers/clients.
3. Walls
Contemporary office design views walls as being much more than part of the building structure: they are part of the organic environment, and can therefore be constructed/adorned with large windows, fabric wall coverings, and so on.
Modern office design takes a more traditional approach, and walls are usually white or off-white to create a crisp, clean and classic look and feel. The lack of detail is deliberate, since it helps put attention on the work area itself vs. the supporting elements.
4. Versatility
One of the defining features of contemporary office design is its versatility: spaces can be used for different purposes, such as having a brainstorming session, delivering a presentation, performing "heads down" work, and so on.
On the other hand, modern office design is more static and fixed: meeting rooms are for meetings, work areas are for working, and so on. With this being said, many businesses that have a more modern environment (usually because that is how the things were already designed when they moved in) are using lightweight, modular furniture to make their space more versatile. For example, instead of bulky cubicles, they're using portable and multi-purpose workstations that can be re-configured to suit different needs (e.g. training, team meetings, presentations, etc.).
Learn More
To learn more about contemporary and modern office design, and to discover what approach (or approaches) would work best in your environment, contact the Key Interiors team today. Your consultation with us is free.
For more information on office design approaches and if an open and collaborative office design is right for your business, download our FREE eBook:
{{cta('6e7c4d88-eb76-4ed9-a6e1-b7c61d98ca99′,'justifycenter')}}