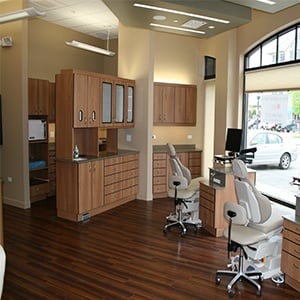 It is a common scenario that unfolds in dental offices across the country: you and your team feel as though you are "bursting at the seams" some days, and yet you do not want to change locations – either to avoid the costs, or because your roster of patients wants you to stay right where you are. Fortunately, you can find a surprising amount of space – and make your space utilization more efficient and effective – through an affordable office renovation.
Below, we highlight 5 ways that an office renovation helps you make the most of your small dental office:
Mobile Storage Shelving
Replacing large, bulky shelves with mobile storage shelving allows you to dramatically reduce your overall file storage space requirement – thereby freeing up dozens, and in some cases hundreds of square feet of prime usable space. What's more, mobile storage shelving is sleek and modern, and will improve the esthetics of your office as well.
De-Clutter the Reception Area
A surprisingly effective and simple way that many dental offices "liberate" space is by de-cluttering their reception area, so that it is not overloaded with office equipment, such as printers, computers, and large workstations or desks. By moving these items to the back area and away from patient view, the reception area can be opened up to improve workflows and create a better, more patient-friendly look and feel.
Consolidate Sterilization Stations
Many dental offices have multiple sterilization stations, which is not only inefficient, but it can lead to inventory mismanagement. Consolidating sterilization to one area or room addresses both of these challenges, and frees up space that can be used for other, more important purposes.
Create a Designated Patient Consultation Space
In smaller dental offices, patients are often engaged by dentists in the waiting area or at a clinical station – because it is the only available space for discussions to take place.
It is often much more effective – both in terms of improving patient satisfaction, and increasing average patient revenues – to create a specific, designated space for these conversations to take place. Even a small consultation room can be designed to "look and feel big" with strategic use of lighting, materials, colors and other elements. No, it is not magic, but it can surely seem that way!
Learn More
At Key Interiors, we have in-depth experience working with dentists and their teams to help them maximize their existing space, so that instead of "bursting at the seams", they are serving satisfied patients and working efficiently and productively.
To learn more, contact us today and schedule your free consultation. We can help you make the MOST of your small dental space easier and more affordably than you imagine!