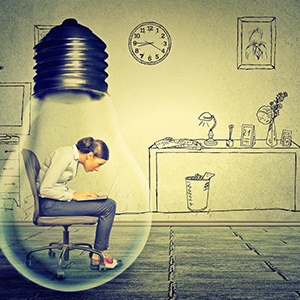 n today's relentlessly competitive business landscape, finding smarter ways to increase employee productivity is not just a best practice. In the long run it makes the difference between success and survival.
However, one aspect that is often overlooked by managers and decision makers – but certainly NOT neglected by employees who must deal with it on a daily basis – is how office design impacts productivity. Here are the key factors that matter most, either positive or negatively.
1. Temperature
A study by Yale researchers confirmed what employees have long since known – and complained about – for decades: temperature and mood (and ultimately productivity) are connected. Uncomfortably cold temperatures can trigger feelings of sadness, loneliness and despair, while uncomfortably warm temperatures lead to feelings of sluggishness and drain energy levels.
Obviously, making sure that the thermostat is not controlled by always-chilly or always-sweating employees is part of the solution. But smart office design also plays a role, for example by ensuring that HVAC systems can efficiently pump cool/warm air throughout the environment, and that the majority of employees are not working near areas that are subject to sudden temperature shifts (e.g. loading docks, etc.).
2. Furniture
Research published in the Journal of Public Affairs, Administration and Management [.PDF] found that there was a significant positive correlation between furniture and productivity. As noted by the study's authors: "When the furniture of the office is not comfortable, and according to the needs of the employees their productivity is affected."
3. Lighting
Another factor that influences – or impedes – employee productivity is lighting. As noted by Bloomberg, "The intensity and type of light we live with during the workday can have a major impact on our health, happiness, and productivity."
As such, office design that allows more natural light into the environment, gives employees more control over the illumination in their personal workspace, and uses full-spectrum LED lighting instead of old fashioned fluorescent lighting (with its endless flickering, buzzing, and sometimes interrogation-like brightness), can go a long way to boosting productivity.
4. Noise
Not surprisingly, noise is a big factor when it comes to productivity; through unfortunately, it is usually blocking productivity than enhancing it. Indeed, as highlighted by Forbes, the near universal hatred of cubicles has less to do with the size limitations and drab impersonal esthetics, and more about a lack of sound privacy. The right office design can neutralize or even eliminate this complaint, and give workers the (relative) peace and quiet they need to be productive and effective.
Learn More
To learn more about how you can improve your office design to boost productivity – which would easily make your renovation pay for itself and start generating ROI within weeks or months – contact the Key Interiors team today. Your consultation with us is free.
For more information about different, effective office design, download our FREE eBook all about theopen and collaborative office design:
{{cta('6e7c4d88-eb76-4ed9-a6e1-b7c61d98ca99')}}