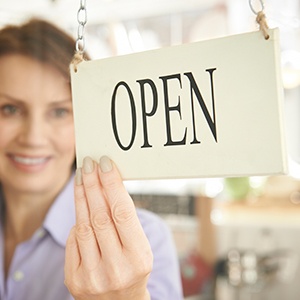 As you consider renovating your office, a key issue that you'll need to address is how to keep your people productive, your customers engaged, and your systems functional during the project.
At Key Interiors, we've completed over 300 successful office renovation projects – including some major undertakings that were more along the lines of a total re-invention than a standard renovation! And based on our experience, here are some practical and affordable suggestions on how you can maintain business operations during an office renovation.
1. Equip employees to work remotely.
Thanks to cloud-based (a.k.a. online) software, you may be able to equip your employees to work remotely, such as from a home office. If you pursue this option, ensure that employees have the technology and tools they need, along with some orientation and training to work effectively away from the office.
2. Use a Temporary Office.
You can deploy your staff to a temporary office, which can be rented by the day, week or month. Typically these offices offer all kinds of optional features to help maintain business operations, such as meeting rooms, reception areas, workstations, internet access/wifi, and more.
3. Strategically schedule vacations and training.
You can strategically schedule vacations and off-site training during your office renovation. Obviously, this is not a complete solution, since you can't simply shut down – the goal here is to maintain operations after all! However, even if 10-20 percent of your team can use their vacation days or get some training during the office renovation, it reduces your challenge since there are fewer team members to re-allocate.
4. You can implement a multi-phase office renovation.
If none of the options above are viable, then you may need to implement a multi-phase office renovation, which allows your teams to continue coming to work and being productive – albeit in temporary new spaces. For example, employees may need to share an office or work in meeting rooms vs. their usual desk or workstation.
However, keep in mind that your employees' health and safety is the number one priority, and so if they're going to be working on-site while renovations are taking place, it's essential that they're protected from dust, paint fumes, etc.
Learn More
As noted above, the interior solutions specialists here at Key Interiors have helped hundreds of businesses maintain operations and stay productive during their office renovation – and we'd be pleased to support your team as well.
To learn more, contact us today and schedule your free consultation. We'll work with you to identify viable, cost-effective and practical options, and help you make decisions that provide the best of both worlds: the office renovation you want, along with the ongoing productivity you need.