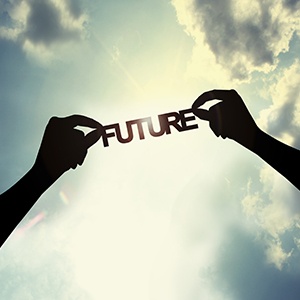 First things first: the notion of "designing your office for the future" does not have anything to do with trying to reconfigure your environment, so that it might be used as a set for the next Star Trek movie. Rather, it means future-proofing your office renovation investment, so that you can continue reaping the rewards for years and decades to come.
In light of this clarification (and with apologies to the Trekkies out there!), below are 4 smart and strategic design tips to keep in mind:
Focus on Modular, Flexible and Lightweight Furniture
The only constant in business is change – and not necessarily from year to year, but often from month to month. Indeed, many businesses are shifting to more project-based work, and assembling flash teams that come together rapidly, and disperse just as quickly when the work is done.
Using modular, flexible and lightweight furniture helps you stay agile and respond to shifting needs. For example, if you need to quickly create open and collaborative spaces, then your furniture can be uninstalled and stored accordingly (either onsite or offsite at a suitable warehouse facility). Or if you need to co-locate teams (e.g. sales and marketing, finance and administration, R&D and product development, etc.), you can bring them together and ensure that they have the workspace they need to be productive.
Promote Collaboration and Interaction
While in the past employee collaboration and interaction was seen as an asset, these days it is more correctly viewed as an organizational imperative. In other words: collaboration and interaction are essential for current success and long-term survival.
With this in mind, it is wise to design your office in a way that encourages and enables collaboration and interaction – especially among cross-functioning teams who might otherwise not cross paths. For example, you may consider creating breakout spaces near stairwells or the lunchroom, or adopting a cubicle-free open office layout.
Focus on Active Design Elements
Last but not least, design your office so that employees have the opportunity to move around; not constantly, but every now and then so they can boost their energy levels, stretch their muscles, and connect and interact with the colleagues. For example, you can deploy the printer(s) in a centralized location (like an office "hub"), or shift the lunchroom to an area of the office that is deliberately at some distance from the primary work area.
Having an active workplace where employees move around vs. sit stationary for most of the day is particularly important for Millennials, who already comprise more than half of the labor market – and the numbers are only going to increase as the years march on. As you can imagine, having a Millennial-friendly work environment is very good strategy!
Learn More
To learn more about how to design your office for the future – so that your investment today continues generating ROI and rewards for years, if not decades to come — contact the interior solutions experts at Key Interiors today. Your consultation with us is free.