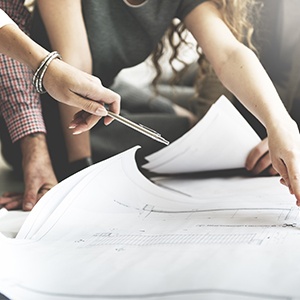 When it comes to your office renovation, naturally you want the reap the rewards and benefits of your investment, such as greater staff efficiency, higher customer satisfaction, an enhanced brand and image, and so on. Yet while end results are important, you cannot afford to overlook the process or project management. And that is where design-build firms are part of the puzzle.
Below, we highlight 5 key ways that design-build firms help your office renovation run smoothly:
Accountability
With design-build firms, all design, build and construction services are handled by a single entity vs. various professionals and contractors. As such, there is a clear line of accountability. This is vital for even the smallest and simplest of office renovations, to say nothing of more comprehensive projects that can be spread out over a period of months, and involve multiple phases and teams.
Cost Control
One of the biggest risks that businesses face when they do not use design-build firms – and one of their chief regrets – is that costs spiral out of control. Often, this is because all design costs are not taken into consideration early in the process. With design-build firms, all costs are laid out and identified before the work begins, and reliable and suitable contingency budgets are developed in light of identified risks and volumes of historical data.
Efficiency
As mentioned above, a key advantage of partnering with design-build firms is the accountability factor. However, this does not mean that such firms "'go it alone". On the contrary, they ensure that all teams are working efficiently, and that schedules and work activities are in harmony vs. conflict. This level of enhanced teamwork is virtually impossible to achieve without having a design-build firm leading the way, setting the rules and protocols, and ensuring that they are followed.
Communication
There is no such thing as a "set it and forget it" office renovation plan. Issues will emerge along the way, such as opportunities that can be exploited, or risks that must be mitigated or averted. And then there are some decisions that are simply iterative in nature – i.e. you and your team will not be able to make them until the office renovation is underway, and you have more data to make an informed decision. Regardless of what emerges during your project, design-build firms streamline and centralize communication. They also function as conduits between your team and other specialists, professionals, contractors and trades, so that you do not have to have separate relationships and conversations with each entity.
Cost Savings
While each office renovation project is unique, generally speaking businesses that leverage design-build firms can save about 10% of costs vs. not using design-build firms. This is primarily because design-build firms are experts in design, construction and project management. It is a more efficient approach, and this translates into measurable cost savings.
Learn More
Key Interiors is one of the country's most experienced office renovation design-build firms, and we ensure that our clients reap all of these rewards and benefits. To learn more, contact us today and schedule your free consultation.