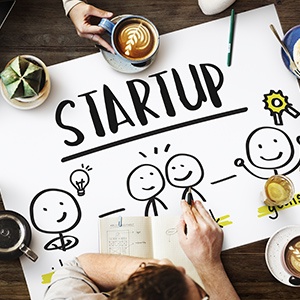 While some days are better than others, and wearing multiple hats is the norm instead of the exception, being part of the startup experience is unique and exhilarating. Each day is different, the possibilities are inspiring, and the sky is the limit.
Naturally, there are many factors that drive and determine startup success, including marketplace demand, timing, competitive advantage, availability of capital (and access to more capital when — not if – it is needed!), a talented and hard working team, and of course, a big dose of good luck never hurts.
However, there is another piece of the puzzle that startup business owners and executives should consider when it comes to maximizing productivity, performance and profitability: office space design.
Based on our experience working with many successful startups over the years – which have now become established and growing organizations – here is our list of 7 office design best practices for startups:
1. Align office design with culture, so that the layout and feel becomes an extension and demonstration of the unique startup's brand identity.
2. Promote communication and collaboration, but not at the expensive of privacy and the need to go "head down" on certain tasks and activities.
3. Choose modular, easy-to-move furniture that can be quickly repurposed to suit various requirements (e.g. team meetings, customer presentations, etc).
4. Pay careful attention to color selection and overall esthetics. Most startup employees work long hours. An environment that keeps them comfortable is going to be an asset; while one that they can't wait to get away from is going to be a liability.
5. Think green: an ecologically-friendly workplace helps reduce energy bills. At the same time, it is an asset that can be leveraged in proposals and used to win new business. For additional ideas, American Express' OPEN forum offers several tips for going green in the office.  
6. Involve employees in decision-making. Find out how they want to work best, and wrap the office design (as much as possible and financially feasible) around those preferences.
And last but certainly not least:
7. Do not go it alone! While there is some good (and some bad) office design software and apps available, these are valuable for brainstorming ideas and possibilities only – not for making decisions and coming to conclusions. To get their office design right the first time, startups are much better off doing what they advise their own customers to do: partner with an expert.
Learn More
At Key Interiors, we pride ourselves on helping startups develop and ultimately experience the ideal office space for their team, image, marketplace, and future needs. Furthermore, we use value engineering, wholesale furniture sourcing, and other strategies to help startups minimize our clients' budgets and maximize their investment.
To learn more, contact us today and schedule your free consultation.