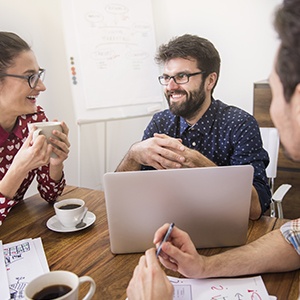 "Company culture" is an all-encompassing term that captures the essence of an organization's values, principles, ethos, vision, and mission. It also provides the framework – formally and informally, directly and indirectly – for accepted norms and standards. Indeed, everything from the general noise/volume level in a workplace to the degree of staff diversity plays a role in shaping, and in turn being shaped by, company culture. 
What's more, company culture is not a static event or "product". It is an organic, constantly shifting element that both leads and supports organization. And that's why talking about company culture in the context of an office redesign makes sense: because it's the ideal opportunity to shape, evolve and drive company culture. In fact, there may be no single better way – or smarter investment – for organizations who want to re-energize their company culture than through an office redesign.
In light of this, and keeping in mind that every organization is unique (i.e. there is no "one size fits all" template), below we highlight 4 reasons how an office redesign improves company culture:
Efficiency Improvements
An office redesign allows you to optimize your existing space, while establishing traffic flows that promote efficiency. For example, you can co-locate teams or workgroups that need to synergize (e.g. sales and marketing, finance and service delivery, etc.), and ensure that employees can quickly get to where they need to go – without running into human traffic jams!
Collaboration Improvements
An office redesign can also dramatically improve collaboration – especially if it involves getting rid of (or at least, reducing) cubicles and private offices, and shifting to a more "open office" environment. When properly designed, such environments are the ideal blend of interaction, community and when required, independent/small group work and privacy.
Image Improvements
An office redesign sends a clear signal to the marketplace – and to competitors – that your organization is growing, moving forward, and that regardless of how successful it has been in the past, that its best days are ahead. Indeed, many organizations spotlight their office redesign on their website, newsletter and social media platforms/channels.
Employee Engagement Improvements
Last but not least, an office redesign is a very "employee-centric" investment, because it visibly demonstrates that you care about your people, and want to make their environment more functional and friendly. Many organizations leverage a recent or upcoming office redesign are part of their campaigns to recruit top talent, as well as to retain the people they need to succeed and grow.
Learn More
To learn more about how an office renovation can improve company culture, contact the team at Key Interiors today. Your consultation with us is free.