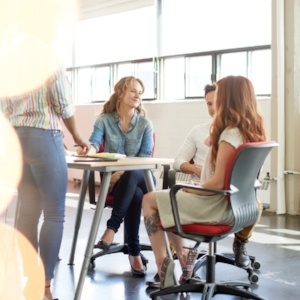 On today's business landscape, it is common to hear businesses of all sizes — from small startups to large enterprises — emphasize their commitment to "authenticity." For example, they tout their systems, practices, protocol and policies that support transparency, visibility, fairness, ethics, employee engagement, environmental responsibility, and giving back to the community.
However, there is another important way that a growing number of businesses are demonstrating their commitment to authenticity: by embracing and implementing authenticity-centered office design.
Authenticity-centered office design is an approach that integrates the above-noted commitment to authenticity into the workplace environment itself. In this sense, it is both symbolic and functional: employees (along with customers/visitors) see tangible evidence of a business's focus on authenticity, while specific design-related decisions promote and encourage authenticity (e.g. transparency, visibility, etc.) to emerge and operate.
Since this still may seem a bit on the abstract side, here are some practical examples of what authenticity-centered office design can look like in a work environment:
Using glass wall systems instead of cubicles of private offices (these can be fitted with semi-transparent shades to allow for privacy when required or desired).

Creating breakout spaces for all employees — regardless of where they are on the organizational chart — to relax and recharge. This promotes equality and fosters a feeling of inclusiveness.

Establishing an on-site fitness center, so that businesses can demonstrate their commitment to keeping their people healthy.

Offering secure bike storage so that more employees pedal to work vs. drive, which reduces carbon emissions and environmental footprint.

Creating open office environments so that cross-functional teams can co-locate and interact spontaneously and organically.

Offering "hot desks" so that employees have the opportunity to work anywhere (vs. singled-out employees getting the best and most coveted office spaces). This option is also great to making remote workers feel part of the team, since when they do visit the office they have a professional and functional place to work, just like their in-house colleagues.
The Bottom Line
Authenticity-centered design is not just empowering, uplifting and ethical. It also has a positive impact on productivity, performance, customer service, recruitment, retention and results.
To learn more about how to reap the rewards of authenticity-centered office design in your workplace, contact the Key Interiors team today. We will build and carry out a customized plan that aligns with your brand and culture, and fits your budget and timeline. Your consultation with us is free.
Also, be sure to check out our FREE eBook to find out whether an open and collaborative office design is right for your business:
{{cta('6e7c4d88-eb76-4ed9-a6e1-b7c61d98ca99′,'justifycenter')}}