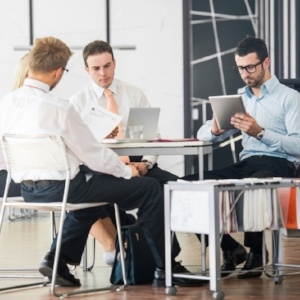 At Key Interiors, we have been an established part of the interior solutions industry for more than 30 years. And throughout this journey, we have seen some exciting and innovative office interior design concepts emerge, such as hot desking, benching, open offices, sit-to-stand desks, and the list goes on. Indeed, the best thing about this industry is that there are always great new developments and ideas on the horizon.
However, without being negative or cynical, it is also true that over the years we have come across some shockingly bad suggestions, guidance, instructions and opinions. And so, we thought it would be both fun and educational if we put together a list of the worst advice we have ever heard about office interior design. Here we go:
1. It is possible to do an office interior design project DIY.
We could easily stop the list here, and this article would be among the most valuable ever written about office interior design, because each year numerous businesses mistakenly believe — or most often, are misled by office design software vendors — that they can re-invent their space in a simple, easy do-it-yourself (DIY) way.
We're almost at a loss for words to describe how terrible this advice is — and not because we are trying to drum up business for ourselves. It is simply an undeniable fact, and you need look no further than some horror stories on the web for ample evidence.
An office interior design project is not, by nature, a minor undertaking because so many systems and elements are integrated — including and especially the unplanned downtime that inevitably erupts when a project goes sideways, and a business either has to shut down for several days or weeks, or must work at limited capacity because wires and workers are all over the place.
2. You don't need to involve staff.
Some decision-makers are advised not to involve staff in any meaningful office interior design decisions, because, well, they are staff. They might ask for changes, or expect changes, that are not practical or affordable.
Simply put: this is a mistake. Just as businesses need to conduct market research to understand who they need to sell products and services to, they need to engage their staff to find out what's going to make them more productive, happy, efficient, and engaged.
Of course, this does not mean that businesses should implement every suggestion. But as long as the lines of communication are open, staff members will not feel as though their voice is being ignored. Rather, they will understand that not every recommendation can be implemented.
3. You have to do everything at once to save time and money.
It is satisfying and often productive to tackle a big project in one, massive undertaking. For example, rather than painting each room in a house one-by-one over a period of several months, some people prefer to set aside a weekend, don their overalls, and plow through every room in a virtual non-stop painting bonanza (complete with lots of pizza delivery!).
However, there is absolutely no need to import this way of thinking to an office interior design project. In many cases, it is both strategic and cost-effective to take care of the project in phases vs. all at once, especially since some back-end work (e.g. cabling, wiring, lighting, etc.) can be done ahead of time as well, which shortens future phases.
The Bottom Line
At Key Interiors, we focus on solutions and possibilities. But yes, it is also important to keep this bad advice in mind, because our goal is to protect our clients from pitfalls and risks.
To learn more, contact us today. Your consultation with us is free, and it is our privilege to help you're your business benefit from our more than 30 years of in-depth office interior design knowledge and experience.
For more information on whether your office needs a renovation now – not later, download our FREE eBook today:
{{cta('be9ee934-8da3-4f57-9a54-072b3b5e3be0′,'justifycenter')}}