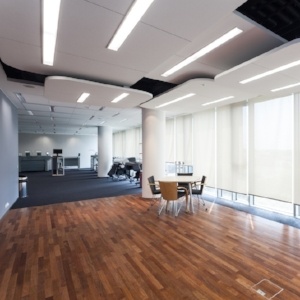 Whether you often find yourself on the giving or receiving end of a persuasive argument – or sometimes an emphatic plea – regarding space planning decisions at home, you know that the discussion (or argument!) is often subjective, and based on personal preferences, tastes and styles. Of course, there is nothing wrong with this. As the old saying goes, your home is your castle.
However, office space planning is somewhat more sophisticated, because there's more on the line than esthetics and subjective impressions and perceptions. Indeed, office space is an expensive asset, and ultimately it must serve a functional purpose: enabling employees to be productive, engaged, effective and efficient (and if there is a customer interaction aspect, then obviously delivering great customer service and making a positive brand impression are part of the mix).
In light of the above, here are 3 office space planning metrics that will help you make faster, smarter and more objective design decisions:
Density/Usable Square Feet
This metric captures the workforce density of your environment, which is especially helpful when proactively planning an expansion. The critical value of the Usable Square Feet concept is the "Usability" part, because it can be easy to forget that some areas of the office – such as the shipping areas or restrooms – are not usable in a functional sense.
For example, an office 5,000 square feet in total size may in fact have 3,500 in usable square feet. And so, if there are 25 employees in the environment, the density/USF is 140. If the business plans on adding 10 new employees, the density/USF would fall to 100. Whether this is adequate or too low is not something that can be determined here. However, this metric highlights that the decision must be based on the usable space — not the total space.
Open:Closed Space
The ratio of open to closed space captures the number of employees that are or can work in open or shared spaces, vs. those that need to (or expect to) work in closed spaces, such as private offices.
This metric is high valuable, because generally speaking, it is more expensive and restrictive (in terms of how space can be used) to provide employees with private offices vs. house them in a more open office environment. However, in some cases this is desirable or necessary, such as in management consulting, health care, etc.
Group Work Area: Employees
This metric captures how many functional group work areas exist in the environment for employees to use. For example, if there are 4 group work areas and 42 employees, then the group work area employees ratio is 10.5.
The key thing to word to keep in mind here is "functional," because, frankly speaking, not all areas that employees can or do gather is necessarily a functional or optimal space. Employees tend to be pragmatic, and as such may meet in the lunch room, a relatively quiet corner of a warehouse, in the reception area, a vacant cubicle, and so on. For office space planning purposes, it is an error to assume that these ad hoc group work areas are suitable simply because they are being used. It is smarter and more productive to create designated group work areas, which can often be done quite cost effectively to everyone's benefit: management and employees alike.
Learn More
To learn more about office space planning metrics that will improve your design decision-making, contact the Key Interiors team today. Your consultation with us is free.
For more information on office design and if the open and collaborative approach is right for your business, download our FREE eBook:{{cta('6e7c4d88-eb76-4ed9-a6e1-b7c61d98ca99')}}